About | Shows | Calendar | DVDs & CDs | Gallery | YouTube | Contact | Home
Mark Nadler is an internationally acclaimed singer, pianist, tap-dancer and comedian. He is the recipient of the 2015 Broadway World Editor's Choice Award for Entertainer of the Year.
His recent off-Broadway hit, I'm a Stranger Here Myself, has been honored with the 2013 Nightlife Award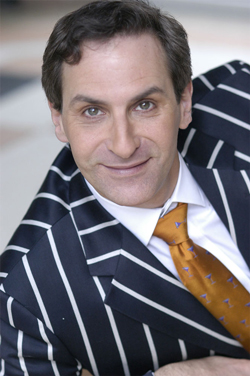 and was nominated for a Drama Desk Award and two Broadway World Awards. The show was presented at The Adelaide Cabaret Festival in Adelaide, Australia, where it was nominated for the prestigious Helpmann Award. Additionally, Mark Nadler's Broadway Hootenanny has become a staple of the Adelaide Festival.
Mr. Nadler has performed at Carnegie Hall with the New York Pops Orchestra and has been a soloist with the Baltimore Symphony, Indianapolis Symphony, Oregon Symphony, National Arts Centre Symphony in Ottawa and others. At Philadelphia's 14,000 seat Mann Center for the Performing Arts, Mark did a solo two-act evening with the New York Pops, as well as Three Singular Sensations with Marvin Hamlisch and Martin Short.
He starred in and co-wrote the off-Broadway Gershwin revue, American Rhapsody, which was nominated for a Drama Desk and two Lucille Lortel Awards and received the Manhattan Association of Cabarets (MAC) Award for Outstanding Musical Revue. He also won that award for Always: The Love Story of Irving Berlin. Additionally, he received the MAC Award three years in a row for outstanding Musical Comedy Performer. Additionally, Mark was given the MAC Award for his performance of five different interacting characters in his one man Opera in Honky-tonk, Red Light.
His one-man show, Crazy 1961, was aired on the New York PBS Television series, 66th & Broadway.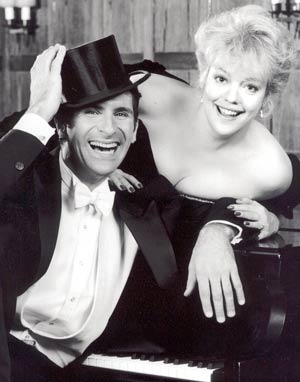 Mark's other one-man shows include Running Wild: Songs and Scandals of the Roaring 20's for which he received a Broadway World Award and a MAC Award for Outstanding Celebrity Artist, Addicted to the Spotlight, They Can't Take That Away From Me: Music Of George Gershwin, Let's Misbehave: A Cole Porter Soirée, Mark Nadler In A Nutshell, and …His Lovely Wife Ira: Ira Gershwin With and Without George for which Mark received the Bay Area Critics' Circle Award for Outstanding Solo Performance. For his show, Tschaikowsky (and Other Russians), which he performed in New York's Algonquin Hotel, Firebird Supper Club and San Francisco's American Conservatory Theater, as well as the Adelaide Cabaret Festival in Australia, Mark was awarded the 2003 Bistro Award for "Continuing To Raise The Standards Of Cabaret Performance." Tschaikowsky (and Other Russians) was reworked as a theatrical one man show called Russian on the Side, which played in Chicago and San Francisco, garnering Mark the Bay Area Critics' Circle Award for Outstanding One-Person show. He also won the Bistro Award for outstanding singer/instrumentalist and for Outstanding Revue for directing, conceiving and music directing Hard Candy: The Songs Of Carol Hall.
He created and co-stars in Something Wonderful: The Songs Of Richard Rodgers and The Night They Invented Champagne: A Toast To Operetta and The Musicals It Inspired. With KT Sullivan he created and performs Make Someone Happy …In The Words Of Comden and Green, A Fine Romance: A Dorothy Fields Songbook, Everything's Coming Up Roses: The Music Of Jule Styne, Sweet and Lowdown: An Evening Of Pure Gershwin, A Swell Party – RSVP Cole Porter, Are We A Pair: Sondheim's Words and Music, Gershwin Here To Stay and Always: The Love Story Of Irving Berlin, for which he and Ms. Sullivan received the Nightlife Award and the MAC Award, both for Outstanding Revue.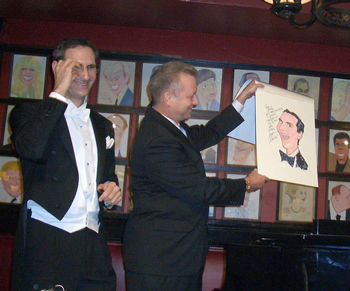 Mark has played New York City's Town Hall and in almost every significant night-club in New York City, and Los Angeles, notably, four seasons at Sardi's (where a caricature of Mark hangs among the other famous faces), 54 Below, The Oak Room at the Algonquin Hotel, The Cinegrill in the Hollywood Roosevelt Hotel, Maxim's and the West Bank Cabaret where he was, at the age of nineteen, the house master-of-ceremonies and musical director. Abroad, Mark has performed in England, Ireland, Scotland, France, Belgium, The Netherlands, Israel and Australia.
Broadway credits include Dame Edna: The Royal Tour and The Sheik Of Avenue 'B'. At Lincoln Center, Mark cowrote, directed and starred in Schnozzola, a tribute to Jimmy Durante for the "Reel to Real" series. Favorite regional roles have been Tony Whitcomb, the outrageous hair-dresser in the Ft. Lauderdale and San Francisco companies of Shear Madness and the octogenarian piano-ukulele and chimes playing, dancing and singing Miss Mabel in Radio Gals, (a role he reprised for the cast album).
Academy Award nominated documentary maker Ray Errol Fox has created Mark Nadler's Broadway Hootenanny, Live from Sardi's which is available on DVD. His recordings include Runnin' Wild: Sin Songs from the Jazz Age, I'm a Stranger Here Myself, Crazy 1961, Beyond Words: Lyrics of Ira Gershwin and Tschaikowsky (and Other Russians), which Mark recorded live at Weill Recital Hall at Carnegie Hall. With KT Sullivan, Mark has recorded A Fine Romance: a Dorothy Fields Songbook, A Swell Party - RSVP Cole Porter and Always: the Love Story of Irving Berlin. For more information and to purchase his recordings, visit www.MarkNadler.com.