About | Shows | Calendar | DVDs & CDs | Gallery | YouTube | Contact | Home | Back
A Fine Romance: a Dorothy Fields songbook
Reviews & Quotes | Book it
A salute to the great Broadway and Hollywood lyricist Dorothy Fields, the first woman elected to the Songwriters Hall of Fame.
The daughter of famed vaudevillian and theatrical producer Lew Fields, Dorothy Fields was a schoolteacher when she met composer Jimmy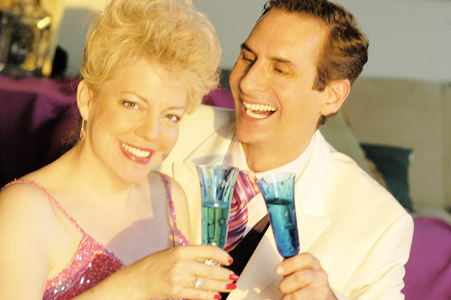 McHugh and found her talent as a lyricist. In 1928 they scored their first big hit with "I Can't Give You Anything But Love." For the next five decades Fields collaborated with such legendary composers as Jerome Kern, Arthur Schwartz and Cy Coleman, and produced such imperishable gems as "I'm In the Mood for Love", "Don't Blame Me", "Pick Yourself Up", "He Had Refinement", "Lovely to Look At", "The Way You Look Tonight", "I Won't Dance", "Poor Everybody Else", "Baby Dream Your Dream", "Remind Me" and "Sunny Side of the Street", which KT and Mark render in their inimitable fashion.